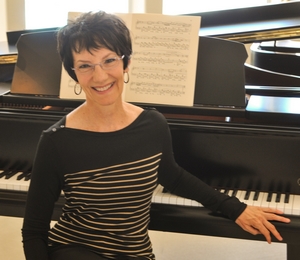 Peggy Rostron is director of the Rostron Piano Studio in Phoenix, AZ, principal pianist with MusicaNova Orchestra, and freelance accompanist and soloist. She has been active as a piano teacher for over 30 years, and soloist/collaborative pianist for over 40 years. As a collaborative artist, she has performed with vocal and instrumental soloists, opera, choir, orchestra, and chamber music. She also played horn over a span of 30 years, performing with orchestras, bands and chamber ensembles.

Originally from South Carolina, Peggy holds degrees in piano performance from Winthrop University (student of Jack Tait and Eugene Barban), Ohio University (student of George Katz), and the University of Iowa, where she completed a Doctor of Musical Arts degree under the direction of Kenneth Amada. She served on the faculties at Southern Wesleyan University in South Carolina and at Marymount College of Kansas, before arriving in Arizona to establish the Rostron Piano Studio in 1983.

Peggy is an active member of the Music Teachers National Association (MTNA), the Arizona State Music Teachers Association (ASMTA), the Phoenix Music Teachers Association (PMTA), and the National Federation of Music Clubs. Her students have consistently received high awards in festivals and competitions, and some have gone on to major in music in college. She has presented at MTNA, ASMTA and PMTA meetings, and currently serves as PMTA's webmaster. She also serves on the Advisory Board of the Arizona Piano Institute.
---
Peggy completely changed my outlook on music, teaching me to better express myself musically and technically. What I learned from Peggy inspired me to continue studying piano as a music major in college." ~Neha Reddy
---
Peggy is a wealth of information on fundamental instrumental study methods and understanding music. Even though I have 45 years of professional experience as a musician and composer, I find that I regularly draw on the insights and guidance I received while studying piano with Peggy." ~Frank D.